Save Some Light for Me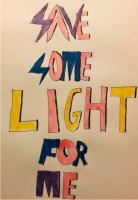 Participants: 1 GM, 5-10 players
By
Download
Description
In a neon fantasy world, we experience the different phases in the lives of a group of friends and lovers in their battle against the Lord of Lies.

Keywords: Polyamory – Dreams – Biography

Save Some Light for Me is a freeform scenario about the dreams and struggles of polyamorous characters in a fantasy world drawn straight from 1980s toy commercials and power ballad lyrics. Quirky-yet-lovable characters come of age together and learn, through their dreams and struggles, the joy and bittersweet sorrow of love. Players portray them through their early years, as they have dreams of greatness, become warriors, and form complex amorous and friend relationships within the group. The game facilitator applies pressure on these relationships through the challenges posed by the Lord of Lies, an unremitting narcissistic villain. Nightmares abound. The characters must overcome this threat as one, but they also cannot forget the past that forged them. Once the Lord of Lies has been defeated, the characters' lives continue and the scenario deals with the fallout of their choices. The characters dream again, now that they have become older and sober, and use their remaining time to communicate with those whom they once loved or still cherish.

About the author: Evan Torner (b. 1982, He/Him) is an American scholar of German, film, and role-playing games, as well as a veteran Fastaval scenario writer. His scenarios include Metropolis (nominated for Best Game Devices in 2012), The Posthuman's Progress (2013), Uwe Boll's Big Gay Wedding (with Kat Jones, 2014), "Something to Drink With That, Sir?" (in the #Feminism anthology, 2016), and The Intrepid Seven (with Jacqueline Bryk, 2016).
Played at
Awards
Winner, Bedste Roller
[+]
Nominated, Juryens Specialpris
[+]
Send corrections for this page