Mod bunden af flasken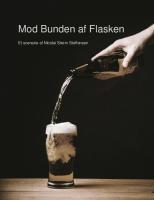 (AKA: Finishing the Bottle)
Participants: 1 GM, 4 spillere
By
Download
Description
Friendship – Alcoholism – Pub

Four regulars are stuck in life with Addiction, who stalks them all. At the local pub they meet to support each other when life seems the darkest, and to celebrate when all is great. The game follows the regulars over a span of four weeks and shows all the challenges they have with Addiction by their side.

A game about alcohol addiction, which shows how Addiction is both your worst enemy that ruins your life, but also your best friend, who supports and comforts you. Players will both play as a regular guest and as Addiction, to explore the love-hate relationship between the two.

Bio:
"Finishing the Bottle" is Nicolais first game designed for the Danish freeform larp convention Fastaval. Prior to this game he has designed several black box larps for the two Danish black box festivals; BlackBox CPH and Black Box Horsens.

The safe routine at the local pub is taken away as the bar has to close. For four of the regulars it might be a chance to change their lives, but will they choose to let go of each other and the familiar idleness?
Et portræt af fire stamgæster fra den lokale bodega og det misbrug de hver især kæmper imod. Omverdenen presser dem til at stille flasken fra sig, men vil de give slip på hinanden, misbruget og den velkendte stilstand?

Stikord: Misbrug – Bodega – Drama

Fire stamgæster sidder fast i livet med Misbruget der følger dem alle. På den lokale bodega mødes de for at støtte hinanden når tingene ser sortest ud og sammen fejre tilværelsen når lykken smiler til dem. Scenariet følger dem over en periode på fire uger og viser deres hverdag og de udfordringer de har som følge af Misbruget.

Mod Bunden af Flasken er et scenarie om alkoholmisbrug. Om hvordan Misbruget både er ens værste ven der ødelægger ens liv, men også ens bedste ven der altid er for at støtte og trøste en. Det er et scenarie der handler om at holde sammen med ligesindede når alt ser sort ud.

Spillerne indtager både rollen som stamgæst og Misbruget og undersøger det had og kærlighedsforhold, stamgæsterne har til deres misbrug.

Genren er socialrealisme og stemningen er både tung og sørgelig til tider, men også hyggelig og kammeratlig. En scene kan være langsom og dvælende eller kort og dramatisk. Spillet spilles semi-live og bruger flere fysiske virkemidler.

Om forfatteren:
Nicolai har været på Fastaval i 10 år og dette er hans første Fastaval scenarie. Når han ikke er på Fastaval er han en aktiv del af Black Box miljøet, både herhjemme og i udlandet.
Played at
Send corrections for this page