The Two Princes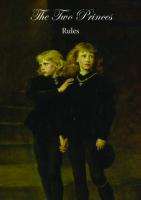 Participants: 2 players
By
Download
Description
As the heirs to the throne of England in 1483 can you defy history and survive the Tower of London? Work together as brothers, explore, and escape as this dark story unfolds based on your choices.

In 1483 king Edward IV dies leaving two young boys as his heirs. Taken to the Tower of London to prepare for the elder brother's coronation they soon find themselves imprisoned. They must escape the tower or history repeats itself and they disappear forever.

This is a story driven cooperative game in two parts. As the two princes you must work together to survive. In the first part the Princes live in the Tower and take lessons preparing them for rulership. Through events and exploration they build stats, collect Items, and most importantly sow seeds for the story that will unfold in the second part.

Then the princes discover that they are in danger and have to escape. To do this they must best a series of challenges determined by their decisions in the first part: A guard they angered or a dark tunnel uncovered – maybe with help from a relative they wrote or a friend they made. Each challenge contains a decision taken together or separately. Their success depends on the cooperation of the players and the condition of the Princes which worsens throughout the game.

Will they be overcome by misery or escape to a brighter future? It's up to you.

Keywords:
Cooperative, story driven, hand management

About the designer:
Senior scientist at the Danish National Space Institute by day, boardgame enthusiast by night. Recently Martin (with a friend) started a podcast about board- and roleplaying games. He favours games were theme and mechanics are strongly intertwined, especially in co-op games. Current top picks are T.I.M.E. Stories and Spirit Island.

From 2012-2016 Martin made boardgames for Fastaval and now he's back.
I er arvingerne til Englands trone i 1483. Kan I omskrive historien og overleve Tower of London? Arbejd sammen som brødre, udforsk og undslip i takt med at den mørke fortællingen udspiller sig baseret på Jeres valg.

I 1483 dør Englands konge, Edward IV. Han efterlader sig to unge drenge som arvinger. De føres til Tower of London for at forberede den ældste bror på sin kroning, men inden længe indser de at de er fanget. De må undslippe tårnet ellers gentager historien sig og de forsvinder for evigt.

Dette er et historiedrevet samarbejdsspil i to dele. Som de to prinser skal I arbejde sammen for at overleve. I første del bor prinserne i tårnet hvor de modtager undervisning som forberedelse til at regere landet. De finder udstyr og opbygger egenskaber ved hjælp af begivenheder og udforskning men vigtigst af alt sår de frøene til den historie der udspiller sig i anden del.

Så opdager de at de er i fare og må flygte. For at gøre det skal de overvinde en række udfordringer som er bestemt af deres beslutninger i første del: En vagt som de fornærmede eller en mørk tunnel de fandt – måske med hjælp fra en slægtning som de skrev til eller en ven de fik. Hver udfordring består af en beslutning som tages sammen eller hver for sig. Successen afhænger af spillernes samarbejde og prinsernes tilstand, som bliver værre gennem spillet.

Overvældes de af elendighed eller undslipper de til en lysere fremtid? Det er op til Jer.

Stikord:
Cooperative, story driven, hand management
Played at
Awards
Nominated, Bedste Innovation
[+]
Nominated, Bedste Brætspil
[+]
Send corrections for this page