Heksefeber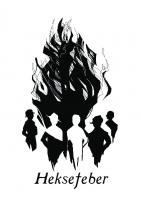 (AKA: Witch Fever)
Genre: Drama, Fantasy, Intrige
Participants: 1 GM, 5 players
By
Download
Description
Times are hard in the small town of Torfenheim. The harvest has failed and war threatens to spread from the north.

The townspeople have started to whisper. About the bad weather, dangerous behaviour and that nothing is like the old days. And they whisper of Chaos. That it isn't just an outer threat, that has invaded The Empire, but also an inner threat. A threat that needs to be quelled. And finally, they whisper of the witch hunter that is approaching town.

Witch Fever is a gloomy ensemble drama about a small town that consumes itself in fear. Each player has three characters, but as the scenario progresses, some of them will burn at the stake. Focus is on creating a shared story about the town and its fall. The scenario is set in the Warhammer universe, but requires no beforehand knowledge. It is mostly freeform, but has simple game mechanics to resolve which characters are burned. The scenario has no elves, beastmen or battlehardened heros, instead you play ordinary people under extraordinary circumstances.
Det er dårlige tider i den lille by Torfenheim. Høsten er slået fejl og mod nord truer krigens rædsler.

Byens borgere er begyndt at hviske. Om det dårlige vejr, om farlig adfærd og om at intet er som i gamle dage. Og de hvisker om Kaos. Om at det ikke kun er en ydre trussel, der har invaderet Imperiet, men også en indre fjende. En fjende som nogen burde luge ud i. Og endelig hvisker de om den heksejæger, der er på vej til byen.

Heksefeber er et dystert ensembledrama om en lille by, der fortærer sig selv i frygt. Hver spiller har tre roller, men som scenariet skrider frem, vil nogle af dem blive brændt på bålet som hekse. Der er fokus på at skabe en fælles historie omkring byen og dens fald.

Scenariet er sat i Warhammer-universet, men kræver intet forhåndskendskab til verdenen. Det er mestendels systemløst med en simpel mekanik til at styre, hvem der ryger på bålet. Scenariet har ingen elvere, beastmen eller kampvante helte, i stedet spiller man almindelige borgere i en ualmindelig situation.
Played at
Awards
Winner, Bedste Formidling
[+]
Winner, Deltagernes Pris
Nominated, Bedste Scenarie
[+]
Nominated, Bedste Roller
[+]
Send corrections for this page