Sexcraft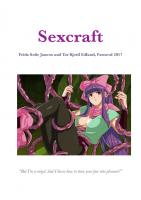 Genre: Komedie, Novellescenarie
Participants: 1 GM, 4 players
By
Download
Description
The room was a little too warm. That had to be the reason why a drop of sweat was tickling his eyebrow. He kept his eyes locked on the screen. Just barely looking over at the timer in the corner. Any second now. He could hear how her moaning changed, softer now, and then, his turn; With a bellow he dropped into the most thunderous laugh he had ever mustered, just at the same second she turned into a high pitch scream.

"That's a wrap, excellent guys!" I really believed in that orgasm scream!"

He finally dared to take his eyes of the screen, quietly nodded at the director, letting his eyes wander over to the other microphone. She was smiling at him. In a voice miles away from the one she had used just a minute ago she suddenly said:

"That was quite a tummy rumble of a laugh! Impressive! I'm Snow, nice to meet you!"

In this scenario the characters are all voice actors who meet for the first time as they arrive for a day of work where they will dub a hentai movie soon to be released in their country.

Throughout the game the story will switch between the dubbing scenes of the present, and flash forward scenes telling the story of the characters' intertwined futures. This is a feel-good humorous scenario combining voice acting to a hentai move with the story of 4 strangers becoming friends and lovers. Many stories are about how people fail to communicate and connect with each other. This is the opposite.
Lokalet var lidt for varmt. Det måtte være derfor, en sveddråbe ramte hans øjenbryn. Han holdt blikket fast rettet mod skærmen. Et hurtigt blik på uret i hjørnet var eneste undtagelse. Når som helst nu. Han kunne høre, hvordan hendes støn ændrede tone, blev blødere, og så var det hans tur. Og det øjeblik, hun hylede sit ekstatiske hvin, brød han som med et tordenskrald ud i den mest buldrende latter, han nogensinde havde præsteret.

"Og det var det, så er vi færdige. Fantastisk klaret, venner! Jeg troede virkelig på det orgasmehyl der!"

Endelig turde han tage øjnene fra skærmen; han nikkede hurtigt til instruktøren uden at sige et ord, og lod sit blik glide over mod den anden mikrofon. Hun smilede til ham. Med en stemme, der som om den kom fra en helt anden verden, end den hun havde brugt et øjeblik tidligere, udbrød hun:

"Det var noget af et latterbrøl! Imponerende! Jeg hedder Snow, hyggeligt at møde dig!"

I dette scenarie er alle karaktererne voice actors, der mødes for første gang da de ankommer for at lave en dags arbejde med at dubbe en hentai-film, der snart skal udkomme i deres hjemland. I løbet af spillet skifter historien mellem dubbing-scener i nutiden og flash-forwards til karakterernes sammenfiltrede fremtid. Det er et feel-good, humoristisk scenarie, der kombinerer voice-acting i en hentai-film med historien om, hvordan 4 mennesker bliver venner og elskere. Mange historier handler om mennesker, der ikke kan finde ud af at kommunikere. Denne her handler om det modsatte.
Played at
Awards
Nominated, Bedste Virkemidler

Umiddelbart virker det vanvittigt at lave et hentai-dubbing/rom-com-scenarie, men gennem scenariets mange veldesignede virkemidler bliver det både rørende og hylende morsomt, når spillerne møder forvekslinger, lip sync og en ninja med en klitoris på størrelse med en aubergine.
Trivia
Send corrections for this page