Gods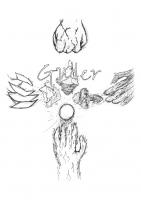 (AKA: Guder)
Genre: Drama, Fantasy, Intrige
Participants: 1 GM, 4 players
By
Download
Description
From the nothingness before the start of time, four divine beings emerge. Soon they set about filling the void, forming earth, mountains, seas, life. However, the gods differ in ideology and aesthetics, disagreeing about how the world and it inhabitants should be. The influence and build it in each their own way. Soon their energy runs out and they have to sleep for thousands of years. When again they wake, humanity have come to be; A being also capable of shaping the world. The gods continue bickering and working against each other through their divine powers. Or descend into the humans and work their agendas through them. Before they again have to sleep and wake to new civilizations. Before there power completely fades, they have to work out what their legacy will be.

"Gods" is a game about creating. About loving and fighting for your vision. It is an open game, where the world and conflicts are created by the players. However, it is also quite structured, with plenty of inspiration and helping mechanics. It is a semi-live game where we have to create the world with our own bodies. It is a game filled with pathos, with dramatic gods with feelings as big as the world.
Fra intetheden før tidens begyndelse opstår fire guddommelige væsner. Snart sætter de i gang med at udfylde tomrummet, former jorden, bjergene, havet, livet. Guderne er dog forskellige i ideologi og æstetik, uenige om hvordan verdenen og dens beboere skal være. De præger og bygger den på hver sin måde. Snart slipper deres kraft op og de må gå i dvale i mange tusinde år. Når de vågner igen er menneskeheden opstået; et væsen der også kan forme verdenen. Guderne fortsætter med at skændes om verdenens form og modarbejdet hinanden med deres guddommelige kræfter. Eller nedstiger i menneskene og bruge dem til at fremme deres agendaer. Før de igen går i hi og vågner op til nye civilisationer. Før gudernes kraft falmer helt, må de beslutte hvad deres arv til verden skal være.

"Guder" er et scenarie om at skabe. Det er et åbent spil, hvor karaktere, verdenen og intriger skabes af spillerne og deres spilpersoner. Spillet er dog fast struktureret med massere af inspiration og hjælpende virkemidler. Det er et semi-live scenarie, hvor vi skal spiller verdens skabelse med vores egen krop. Det er fyldt af patos, med dramatiske guder med følelser så store som verden selv.
Played at
Send corrections for this page