Grampa's Nimbus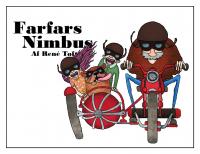 (AKA: Farfars Nimbus)
RPG system: Systemløst
Genre: Komedie
Participants: 1 GM, 3 players
By
Download
Description
– Grampa? Do you think we will find Dad again?

Sille's beetroot colored hair was a big mess while she looks worried at Grampa. He was polishing the old motorcycle with a sidecar. It was a Nimbus.

– Of course we do, he growled affectionately.

– Flupsi says Dadis playing a kind of hide and seek.

– You can tell your invisible friend that she might not be completely wrong.

– But if he is playing hide and seek, why did he say that he was on a secret mission? Is it because he is hiding from those ABC agents?

– KGB agents, Sille. Do not worry, we'll find Dad. I am just not sure Dad knows he would like to be found.

Bille nervously tugs Grampa's sleeve.

– Grampa, what is a Kayjeebee agent?

Everyone have had a grandfather. Maybe he was tall as a house. Large bushy eyebrows. Big mustache. Slightly muttering, even sorrowfull at times. Firm, but never mean. Perhaps he had, if you were really lucky, a motorcycle. An old Nimbus with a side car as you drove off in a summer in search Father who was out there saving the world. For while your dad saves the world, who is saving your father?

Grampa'sNimbus is a little freeform scenario for you who need a warm hug on a cold day.
– Farfar? Tror du vi finder Far igen?

Silles rødbedefarvede hår stritter til alle sider og kanter, mens hun ser bekymret på Farfar, der pudser den gamle motorcykel med sidevogn. Det var en Nimbus.

– Selvfølgelig gør vi det, brummede han kærligt.

– Flupsi siger at far leger en slags gemmeleg.

– Du kan godt fortælle din usynlige ven at det nok ikke er helt forkert.

– Men hvis han leger gemmeleg, hvorfor sagde han så, at han var på en hemmelig mission? Er det fordi han gemmer sig for de der ABC agenter?

– KGB agenter, Sille. Bare rolig, vi skal nok finde Far. Det er bare ikke sikkert Far ved, at han gerne vil findes.

Bille hiver nervøst Farfar i ærmet.

– Farfar, hvad er en Kåggebe agent?

Alle har haft en farfar. Måske var han høj som et hus. Store buskede øjenbryn. Stort snørklet overskæg. Let mumlende, lidt sørgmodig. Bestemt, men ikke belærende. Måske havde han, hvis du var rigtig heldig, en motorcykel. En gammel Nimbus med sidevogn som I kørte afsted en sommer på jagt efter far der prøvede at redde verden. For mens din far redder verden, hvem redder så din far?

Farfars Nimbus er et systemløst lille scenarie til dig trænger til et varmt kram på en dum dag.
Played at
Awards
Nominated, Specialprisen

En konsekvent og medrivende forfatterstemme gennemtrænger hele scenariet fra første side til sidste sekund i spillokalet – og er det klare udgangspunkt for en bundsympatisk naivistisk Danmarksfortælling om et land, der måske engang var.
Send corrections for this page