Olsen Banden for Ever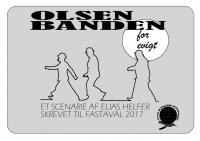 (AKA: Olsen Banden for evigt)
Genre: Komedie
Participants: 1 GM, 5 players
By
Download
Description
– I have a plan.

– Damned swell, Egon!

– Is it something to do with millions, and such?

– Millions? Oh, no. It has to do with something a fair bit more valuable than millions!

– More valuable than millions?

– Exactly! Much more valuable. It has to do with the very cultural heritage of Denmark! A series of very popular Danish films that have brought joy to young and old for generations! But an international consortium of film distributors and American film studios have decided to get rid of them in order to pave the way for more mass produced Hollywood blockbusters.

– Those bastards!

– Somebody ought to do something!

– Precisely. But don't worry. I have a plan. Everything is timed and coordinated – it cannot fail! We need: five players, a game master, one classroom, a set of scenes and a deck of cards with different everyday objects to be used in unusual ways.

In Olsen Banden forever, you play your own Olsen Banden film! The game gives you the tools to create a story following the template of the films, and helps you make heists the way Egon makes them.
– Jeg har en plan.

– Skide godt, Egon!

– Handler det sådan om millioner, og sådan noget?

– Millioner? Næh, nej. Det handler om noget meget mere værdifuldt end millioner!

– Mere værdifuldt end millioner!?

– Ja! Meget mere værdifuldt. Det handler selve den danske kulturarv. En serie folkekære danske film, der har glædet børn og voksne i generationer. Men et internationalt konsortium af filmdistributører og amerikanske filmstudier har besluttet sig for at afskaffe dem, for på den måde at bane vejen for flere masseproducerede hollywoodfilm.

– De skiderikker!

– Nogen burde gøre noget!

– Lige præcis. Men bare rolig. Jeg har en plan. Alt er timet og tilrettelagt – det kan ikke gå galt! Vi skal bruge: fem spillere, en spilleder, et klasselokale, et sæt sceneoplæg og en stak kort med forskellige dagligdags genstande der kan bruges på usædvanlige måder.

I Olsen Banden for evigt spiller I jeres helt egen Olsen Banden film. Scenariet giver jer værktøjerne til at skabe en historie efter filmenes velkendte skabelon, og hjælper jer med at lave kup som Egon laver dem.
Played at
Awards
Nominated, Bedste Roller

De tre ikoniske hovedpersoner kommer skarpt og præcist til live med hjælp fra citater og silhuetter, mens funktionsrollerne Pøblen og Parnasset gennem delt ejerskab over Yvonne rammer filmuniversets klassebevidsthed lige på kornet. Det siger jeg dig, Egon, det er altså smart!
Send corrections for this page