Gargantuan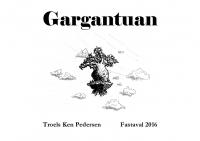 Genre: Drama, Fantasy, Sci-Fi
Participants: 1 GM, 4 players
By
Download
Description
Gargantuan is an enormous airship on it's way over The Ocean from The Imperial Elven Republic to The New Territories. The ship is driven by the finest alchemy of the elves and is so well built that it's crash free. The upper classes and the officers on board are elves, the lower classes and the servants are goblins. Elves are beautiful, wise and good, while goblins are ugly, foolish and mean – some elves are so good that they even think goblins should have rights.

The game follows two couples, the rich goblin Doss and his lover, the aristocratic but debt-plagued elf Illex Argentinus, the revolutionary writer Cass and goblin rights activist Taningia Danae. Life isn't simple and easy for any of them. The game also follows life on board the Gargantuan, from the Progressive Salon to the inferno of the engine room.
Gargantuan er et enormt luftskib på vej over Oceanet fra Den Kejserlige Elver-Republik til De Nye Territorier. Skibet drives af elvernes fineste alkymi og er så velbygget, at det ikke kan styrte ned. Overklassen og officererne om bord er elvere, underklassen og tjenerne er gobliner. Elvere er smukke, vise og gode, mens gobliner er grimme, tåbelige og usle – nogle elvere er så gode, at de endda mener at gobliner bør have rettigheder.

Spillet følger to par, den rige goblin Doss og hans elsker, den fornemme men forgældede elver Illex Argentinus, samt den revolutionære forfatter Cass og goblin-rettighedsaktivisten Taningia Danae. Livet er ikke simpelt og nemt for nogen af dem. Spillet følger også livet om bord på Gargantuan, fra den progressive salon til maskinrummets inferno.
Played at
Awards
Winner, Specialprisen

Strukturel ulighed gennemsyrer et scenarie, der fremstiller et komplekst problem med alle de nuancer det fortjener og som aldrig hverken prædiker eller belærer. Politisk rollespil har aldrig været mere interessant.
Send corrections for this page