Tabet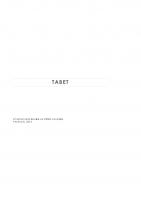 Genre: Novellescenarie
Participants: 1 GM, 4 players
By
Download
Description
The printer wakes, and one by one, ejects the thesis pages. She stretches, stands up and walks behind him. He smiles, puts the vestment away, and follows her into the bedroom.

Seven years later, soft jazz streams from the stereo. The door to the nursery is closed. Morten and Lene try to ignore the empty high chair and eat their dinner in silence.

"The Loss" explores sorrow, what it means to lose oneself, and the losses that cut you in ways that words cannot describe. It also examines how to move through sorrow to the other side. The narrative permits the unsaid to remain unsaid, and plays out largely in the players' heads, while the underlying physical game mechanics help the game to put real weight on the players' shoulders, since sometimes emotional pain feels like a punch to the gut.

Duration: 2 hours
Number of players: Four
Genre: Domestic tragedy with a small light at the end of the tunnel
Player type: You enjoy continuing the story in your head while gut-punched with emotion, and sometimes, playing abstract entities. The game mechanics entail some physical elements, but do so safely.
Game master type: The game master is both director and redeemer. You will set and cut scenes, pace the players, and try to help Morten and Lene rise from the ashes of their loss like a phoenix.
I det andet rum vågner printeren til live og begynder at spytte specialet ud, side for side. Hun strækker sig. Rejser sig fra computeren. Går hen bag ham. Han smiler. Lægger præstekjolen fra sig. Følger efter hende ind i soveværelset.

Syv år senere. Trip-trap-stolen står der bare. Tom aften efter aften. Blød jazz lyder fra anlægget. Døren til barneværelset er lukket. Morten og Lene spiser aftensmad i tavshed.

"Tabet" handler om sorg; om det man mister, når man mister sig selv, og om de tab, man ikke taler om. De tab, der gør for ondt. De tab, som kostede mere end man kan sætte ord på. Og om hvordan man måske kan komme ud på den anden side af sorgen. Scenariet fokuserer på at lade det usagte forblive usagt, og lader størstedelen af fortællingen udspille sig i de enkelte spilleres egne hoveder. Fysiske virkemidler understøtter de enkelte scener, for Tabet kan virkeligt hænge tungt på dine skuldre og nogle gange er smerten et slag i maven.
Played at
Awards
Nominated, Bedste Formidling
[+]
Trivia
Send corrections for this page