Robin's Friends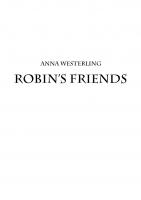 (AKA: Robins vänner)
RPG system: LARP
Participants: 1 GM, 3 players
By
Prolog (2013), Västerås, Sweden
Ropecon (2017), Expo and Convention Centre Messukeskus, Helsinki, Finland
Download
Description
A star, a producer and a caretaker - three close friends going away for a short holiday together to have the best time. But they each character have their own baggage, and the week-end is pulled apart by quarrels.

Robin's friends is a short scenario with a lot of emotions about the beauty of friendship and the difficulty to communicate, even if your intentions are good. It's about what happens when your inability to see others suddenly leads to the realization that it's too late. But if you had the chance to do it again, how would you change it?
Playing style: Up on the floor, immersive, emotional, Swedish kick-ass jeep-form.
En stjärna, en producent och en omhändertagare - tre nära vänner som åker upp till en sommarstuga en helg för att umgås och ha det bra. Men de varje karaktär bär med sig sina egna problem, och helgen blir istället för härlig förstörd av gräl mellan dem.
Robins vänner är en kort scenario om vänskap och svårigheten att kommunicera, även om du har de bästa intentioner. Det handlar om vad som händer när din oförmåga att se andra plötsligt leder till insikten att det är för sent. Men om du hade
chansen att göra det igen, hur skulle du ändra på det?

❤ Spela ett bra och högkvalitativt spel som berättar en historia om vänskap och hur svårt det kan vara.
Played at
Send corrections for this page