London Crawling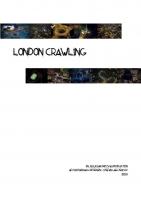 RPG system: Mutants & Masterminds
Participants: 2 GMs, 8 players
By
Download
Description
Headlines of death and sorrow - they tell of tomorrow
Madmen on the rampage
And I'm down in the tube station at midnight
- The Jam

London er en sump af fattigdom, kriminalitet og forarmelse.
Råddenskaben og korruptionen har bredt sig fra pusherne og luderne ved New Cross til yuppierne i Bermondsey, bedsteborgerne i Notting Hill Gate og helt op til politikerne der går ind og ud af 10 Downing Street.
Englænderne har brug for nogen at se op til. Nogen der kan minde dem om en tid, hvor England var en stormagt med flåde, kolonier og respekt ude i verden.
England har brug for nogen der kan stoppe de russiske bander der kommer væltende ind fra øst, og de irske separatister der huserer mod vest.
England har brug for helte. Nye helte.

London Crawling - et dystert superhelte scenarie i 80ernes England, som det ville tage sig ud i Watchmen.
Played at
Awards
Winner, Vintersolprisen
Trivia
Send corrections for this page