Genfærd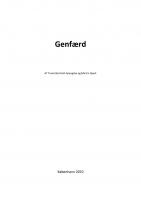 (AKA: Ghosts)
RPG system: Blackbox larp
Participants: 8-15 players
By
Download
Description
Tragedy – Betrayal – Narratives

Memories are volatile. The same is life. As ghosts you are trapped in limbo and are forced to relive your last days alive. It was during the last days of the colonies, in a country house, that a great tragedy ended your short life. You want to move on, but your own inability to maintain who you are leaves you trapped between the living and the dead. One of you is a murderer. Another a traitor.

Ghosts is a black box larp where the players create a story within a given framework. The game experiments with how simple set-ups, structures and game mechanics can shape narratives in play. Expect shared storytelling, improvising narratives, and to be an active co-creator.

Bio:
Troels Barkholt-Spangsbo has designed larps such as "Morgenrøde" and "The White War" since 1999. He was one of the main organizers of Knudepunkt in Denmark in 2011, 2015 and 2019. He is a father of two, teaches social science and design, writes fundraising applications, and works as the national secretary of the Danish Humanist Association.

Minder er flygtige. Det samme er livet.

Fanget i limbo tvinges du til at genleve dine sidste dage i live. En stor tragedie afsluttede dit korte liv, men din egen manglende evne til at fastholde hvem du er, efterlod dig fanget mellem de levende og de døde.

Du er dog ikke alene. Andre er fanget med dig og deres minder er lige så fragmenterede som dine – dog er de alle forbundne. Sammen rekonstruerer i hvorledes jeres jordiske liv blev afsluttet.

En af jer er morder. En anden forræder. Dette er jeres genfærd.

Genfærd drejer sig om at spillerne sammen skaber en fortælling i flere lag. Fiktionen defineres af spillerne inden spillet starter med kyndig vejledning og hurtige beslutninger. Der vælges mellem tre settings/genrer der dog alle sammen tillader en tragisk fortælling. Historien i spillet styres af nogle faste holdepunkter såsom et mord – men hvordan historien kommer fra A til B er op til spillernes improvisation.

Klassisk tragedie. Eksperimentelt. Live fordi scenografi og fysisk repræsentation af roller er med til at forme spillet – ikke fordi man har kostumer på eller siger "Vær Hilset".

Played at
Send corrections for this page