Free The People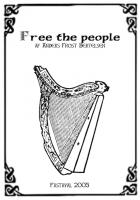 RPG system: Systemløst
Participants: 5 players
By
Download
Description
What does it profit him
The right to be born
If he suffers the loss of liberty?

Hvad er livet uden frihed? Frihed til at leve sit liv i fred. Frihed til at skabe sin egen skæbne. Frihed til at bestemme over sig selv. For det irske folk var frihed i mange år en uopnåelig størrelse, en drøm om noget der kunne have været.

Laws were made for people
And the law can never scorn
The right of a man to be free

Men frihed er mange ting. For hvad er det frihed fra? Er det frihed fra århundreders besættelse af en nærliggende stormagt? Er det frihed fra hungersnød, kummerlige kår og elendige arbejdsforhold? Frihed er ikke et entydigt begreb, og ikke alle slags undertrykkelse kan bekæmpes med geværer og bomber.

We are the people
And we shall overcome

Men kæmpe det kan man. Det skal man. Og disse kampe, dem skal I følge. Kampen mod besættelse. Kampen mod havet. Kampen mod arbejdsløshed. Ikke bare skal I følge dem. I skal kæmpe dem!

Free the people!
Let them have their say!
Free the people!
Let them see the light of day!
Phil Coulter & Bill Martin

Free The People er et scenarie der tager udgangspunkt i irske folkesange. Ud fra disse skal spillerne aktivt være med til at skabe en række små historier. Scenariet har ikke nogen fast spilleder, men til gengæld skal spillerne skiftes til at spillede scenerne, gennem en fortolkning af det musiske forlæg. Det henvender sig primært til rutinerede spillere, der ikke er bange for at tage ansvar for den fælles oplevelse. Scenariet foregår på dansk men kræver naturligvis en vis fortrolighed med det engelske sprog.
Played at
Links
Send corrections for this page