Fortæl mig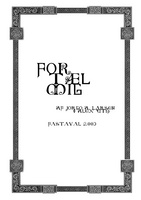 (AKA: Tale Me)
RPG system: Systemløst
Genre: Projekt R'lyeh
Participants: 1 GM, 6 players
By
Download
Description
On a street corner in Bremen, a hunched over musician stands. His coattails are worn, but gold glimmers in his smile. His nails are broken, black, but his fingers dance nimbly over a heavy accordion . Broken notes fill the street, ask the papers and withered leaves for a dance in the moonless night.

"The story never ends as iiit once diiid! Sleeping Beauty braids princes behind the saaaafe hedge of her smock." The voice is hoarse, cutting, his breath heavy with absinth and smoke. The tune struggles against the wheezing rhythm of the bellows, stumbles like a drunkard between the notes. "Heeere is the heart the briefcase queen gaaave as pleeedge And here is a fool dancing angrily at the sponsor king's taable." An opera, a mass, a windblown street song.

"The queen of the elves moved to otium hiiiilll. And the Fisherman's Wife found a soft, modern maaaaan."

The last note beats against closed shutters. Silence. Shining rodent eyes in the shadows of his waistcoat. Maybe the accordion is a flute in his rough hands. "The story is here, even though you were never in a movie." Slow, calm words beneath his glittering eyes.

"Tale me, and I will tale you."

If no one knows your story, who are you even?

A modern fairy tale about the power of storytelling and will.
På et gadehjørne i Bremen står en krum musikant. Hans frakkeskøder er slidte, men guld glimter i hans smil. Hans negle er knækkede, sorte, men hans fingre danser rapt på en tung harmonika. Skæve toner fylder gaden, byder papir og visne blade til dans i en måneløs nat.

"Historien slutter aldrig som den gjo-orde en-gaaang! Tornerose fletter prinser bag en sik-ker kittelhæ-æk." Stemmen er hæs, skærende, hans ånde tung af absinth og røg. Melodien kæmper mod blæsebælgens hvæsende takt, vakler som en fuld mand mellem tonerne. "He-er er det hjerte mappeborgens dronning ga-av i pa-aaant. Og her en nar der danser vredt ved sponsorkongens bo-oord. " En opera, en messe, en forblæst gadesang.

"Elvernes dronning flytted' til otiumshø-øøj. Og muddergrøftens kælling fandt en blød, moderne ma-and."

Den sidste tone slår mod tillukkede skodder. Tavshed. Blanke gnaverøjne i skyggerne af hans frakke. Måske er harmonikaen en fløjte i hans grove hænder. "Historien er her, selvom du aldrig kom med i en film. " Langsomme, rolige ord under hans glitrende øjne.
"Fortæl mig, og jeg fortæller dig. "

Hvis ingen kender din historie, hvem er du så?
Et nutidseventyr om fortællekraft og vilje.
Played at
Awards
Winner, Bedste Scenarie
Trivia
I Orkon 2003-programmet var ordet "sponsorkongens" i foromtalen rettet til "sponsORKONgens" på grund af en for hurtig søg & erstatning.
Otto-vinder: Bedste Scenarie
Links
Send corrections for this page