KryptCon I (2019)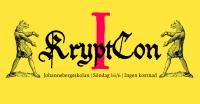 Location: Johannebergsskolan, Göteborg
Date: 16. June 2019
About the convention:
Den 16/6 samlas vi på Johannebergsskolan för att spela OSR rollspel hela eftermiddagen och kvällen, från 11 till 21. Två spelpass, 11-15 och 17-21, däremellan mat och samkväm efter eget tycke och smak.

Välkomna till KryptCon
We haven't had access to a program for this convention. The list is simply based on external references, memory, rumors and so on and the list might not be completed.
If you have a correction or are in access of a program then please send us an update.
Organizers
Send corrections for this page