SävCon XIX (2019)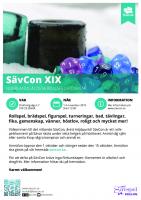 Location: Sävar Skola, Sävar, Sweden
Date: 1. - 3. November 2019
About the convention:
Varmt välkommen till Norrlands äldsta rollspelskonvent – Det nittonde SävCon!

INFORMATION
SävCon XIX sker mellan den 1-3 november 2019 på Sävar skola. Drottningvägen 6, Sävar.

Anmälan öppnar den 1 oktober och stänger den 15 oktober. Anmäl dig själv eller upp till 5 personer.

Mer information kommer löpande både här och på vår hemsida www.savcon.se.

BLI KONVENTSHJÄLTE
För att skapa ett så bra konvent som möjligt så behöver vi hjältar som hjälper till. Arbetsuppgifter kan vara att förbereda lokalerna innan konventet, spelleda ett scenario, hjälpa de som saknar information, ställa fram och ta bort mat, försäljning av fika, städning efter konventet och mycket mer. Hitta mer information och skriv upp dig på www.savspel.se/hjalte.

Hjärtligt välkommen!

KONTAKT
www.savcon.se
kontakt@savcon.se
Download
We haven't had access to a program for this convention. The list is simply based on external references, memory, rumours and so on and the list might not be completed.
If you have a correction or are in access of a program then please send us an update.
Organizers
Send corrections for this page