Borås Spelkonvent 37 (2019)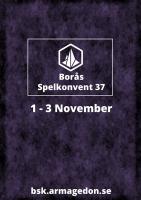 Location: Bäckängsgymnasiet, Borås, Sweden
Date: 1. - 3. November 2019
About the convention:
Borås Spelkonvent, BSK, är ett arrangemang som samlar hundratals deltagare under 3 aktivitetsfyllda dagar. Varje Allhelgonahelg möts nya och gamla inom spelhobbyn på Bäckängsgymnasiet i Borås för att spela spel och umgås tillsammans.

- Brädspel, rollspel, kortspel, figurspel, diorama, lajv och mer samsas under ett och samma tak vilket gör konventet till ett utmärkt tillfälle för dig att prova något nytt eller spela gamla favoriter.

- Stora turneringar, mysiga spelsessioner samt möjligheten att möta nya & gamla spelintresserade vänner gör BSK till ett måste för många.
We haven't had access to a program for this convention. The list is simply based on external references, memory, rumours and so on and the list might not be completed.
If you have a correction or are in access of a program then please send us an update.
Send corrections for this page