Blackbox Cph VII (2018)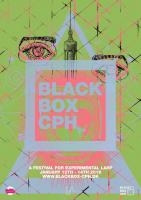 Location: Huset-KBH, København, Denmark
Date: 12. - 14. January 2018
About the convention:
Velkommen til Blackbox Cph – en festival for eksperimenterende rollespil i midten af København.

Til Blackbox Cph kan du vælge mellem flere scenarier af cirka 3 timers varighed. Scenarierne benytter teaterlys og -lyd til at styre spillet, og flere af dem vil også eksperimentere med andre teaterteknikker i spillet. Til sammen skaber det en særlig form for rollespil, som efterhånden har fået navnet blackbox rollespil.

Scenarierne til Blackbox Cph er designet til at være plug-and-play. Det betyder, at det kræver et minimum af dig som spiller. For at deltage skal du blot tilmelde dig, og når du møder op, skal du huske at medbringe et grundkostume bestående af sorte sokker, sorte bukser, samt en sort t-shirt.

Forfatterne bag scenarierne på Blackbox Cph sørger for al anden forberedelse. De har al magt over deres scenarier og vil stå for både plot, roller, workshop, instruktion, samt styring af teaterlys og -lyd. Vi sørger dog for, at have nogle teknikere til stede, som kan finde ud af det med lys og lyd.

Som spiller skal du blot være klar til at følge instrukser og give den gas, når spotlightet rammer dig.

Pris: 75 kr. pr. scenarie.
Organizers
Links
Send corrections for this page