Board of Directors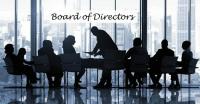 RPG system: Blackbox larp
Genre: Drama, Intrige

By
Description
This larp will challenge you. It will challenge your abilities of leadership and persuasion.

You sit in the board of directors in a traveling agency and it won't be easy for good reasons. You will experience pressure from the media, the consumers and in your own board you will disagree whether you should be humanistic or be sure of the economically survival of the agency.

You can't be both. Do you have the abilities?
Played at
Send corrections for this page