We Are One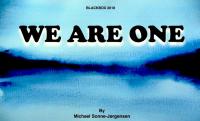 RPG system: Blackbox Larp

By
Description
Two groups of genderless beings, each with its own "one sound" language and physical form, lives in caves separated by a great barrier/divide.

Through simple rituals – the merge of two beings into one, the death of the elder, and the birth of a new being – they live their lifecycles. Between each lifecycle the groups are spirited away to a dreamland, which is everything that the caves are not.

The two groups' lifecycles collide when the great barrier disappears and the boundary between the caves and the dreamland start to blur.
Played at
Send corrections for this page