SPILMESSE: Slagelse Spiller Brætspil 2024 (2024)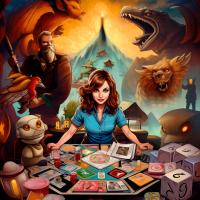 Location: Slagelse Bibliotek, Denmark 🗺️
Date: February 24, 2024
About the convention:
Vi inviterer alle til at spille brætspil!
Og med over 600 besøgende sidste år, gentager vi succesen igen i 2024.
Lørdag den 24. februar fejrer vi nemlig brætspillet og de mange sjove oplevelser der gemmer sig i de farverige papæsker.
På Slagelse Bibliotek laver vi en hel dag med brætspil i alle mulige former og sværhedsgrader. Vi stiller op med over 25 forskellige brætspil, som du kan komme og prøve kræfter med hele dagen.
Vi hjælper dig i gang de enkelte spil så du nemt kan fortsætte når du kommer hjem.
Vi har fyldt biblioteket med en masse stationer - et for hvert spil. Du kan i løbet af dagen bevæge dig rundt og prøve de spil af du har lyst til. Der er instruktører ved hvert spil der hjælper og vejleder.
Der kommer et særskilt program med flere detaljer og yderligere aktiviteter for dagen i starten af februar.
Dagen er lavet i samarbejde med Brætspilsnørderne og en masse frivillige kræfter.
We haven't had access to a program for this convention. The list is simply based on external references, memory, rumours and so on and the list might not be completed.
If you have a correction or are in access of a program then please send us an update.
Organizers
Links
Send corrections for this page