Papjam Scratch (2021)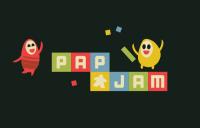 Location: Peder Lykke Centeret, København, Denmark 🗺️
Date: 5. - 7. November 2021
About the convention:
PapJam Scratch is a board game game jam. What is a game jam you might ask!
Well, a game jam is a bunch of people getting together and creating games. And with board games (unlike video games), that means you don't need to know anything other than how to play a board game.
The event is for everyone, from veteran board game designers to all those who love board games and have always wanted to try making one of their own.
DO I NEED A TEAM?
No, it's totally fine if you don't have a team. On Friday we'll help people out in finding a team, and everyone ends up in a team. It's of course also fine to work alone or to come to the jam with a pre-existing team.

More info and tickets soon!
Download
Awards
Best Board Game (by participant voting)
Organizers
Trivia
The theme of the jam was revealed to be "Break"
Links
Send corrections for this page