Grottröj #33 (2021)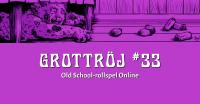 Location: Online, Sweden
Date: February 20, 2021
About the convention:
Tyvärr är vi kvar i "rådande omständigheter", vilket gör en fysisk sammankomst olämplig. Därför kommer vi att köra på Discord även Grottröj #33, men den här gången i något annorlunda format.

Många upplever att en heldag framför skärmen med hörlurar på sig kan bli ganska krävande, och när majoriteten av deltagare bara spelar eller spelleder ett av passen kan det bli svårt att få ihop hela grupper.

Därför kommer vi den här gången att prova ett annat schema:

Pass 1: 13:00-17:00

Extrapass för de som vill: 18:00 - hemgång.

När det närmar sig kommer ytterligare information, och möjlighet att avisera eller intresseanmäla sig till pass likt tidigare gånger. Håll ögonen öppna :)
We haven't had access to a program for this convention. The list is simply based on external references, memory, rumours and so on and the list might not be completed.
If you have a correction or are in access of a program then please send us an update.
Organizers
Send corrections for this page