Grottröj #32 (2020)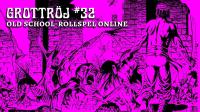 Location: Online, Sweden
Date: November 14, 2020
About the convention:
Håll i hatten! Covid-19 har världen i ett järngrepp, men vi ger inte upp. Ännu en gång samlas vi online för att dyka ned i grottor, kryptor, tempel, och andra spännande platser.

Vi kommer att hålla till på Discord, precis som förra gången.

Bland pinnade meddelanden i kanalen finns en länk till ett google sheet där den som vill kan beskriva sitt arr eller anmäla intresse som spelare. Förhoppningsvis underlättar det litegrann när vi ska dela upp grupper.

Schemat ser ut som vanligt:

10:00 - 15:30: Välkommen + Pass 1
15:30 - 16:30: Mingel
16:30 - 22:00: Pass 2, varje grupp tar paus vid behov
22:00 - hemgång: Nattpasset

Se till att ha snacks, te/kaffe, och fungerande headset till hands. Äventyr väntar!

Vi ses online!
We haven't had access to a program for this convention. The list is simply based on external references, memory, rumours and so on and the list might not be completed.
If you have a correction or are in access of a program then please send us an update.
Send corrections for this page