OernCon V (1991)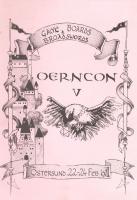 Location: Wargentinskolan, Östersund, Sweden 🗺️
Date: 22. - 24. February 1991
About the convention:
OERNEN HAR LANDAT!

VÄLKOMNA TILL OERNCON V ÖSTERSUND 91.

Spelföreningen Gameboards & Broadswords nord-sektion välkomnar dig till Oerncon i Östersund den 22/2-24/2 1991. Vi hoppas att detta sedan länge etablerade norrlandskonvent skall locka även i år. Trots att vi har flyttat till Österund kommer de flesta turneringar att arrangeras av samma personer som förut.

Vi lockar som vanligt med en trevlig atmosfär, lagom mycket folk och bra turneringar i dina favoritspel. I år kommer vi att anordna inte mindre än sju rollspelsturneringar och ett flertal brädspel.

Konventet som äger rum på Wargentinskolan i centrala Östersund (se karta) inleds med invigning klockan 17:30 på fredag och tävlingarna börjar klockan 19:00.

Download
Organizers
Referenced in the following articles
Trivia
Konventet hade ca 100-120 deltagare inklusive arrangörer.
Send corrections for this page