Magtens lænker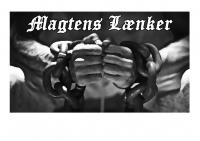 (aka: Chains of Power)
Genre: Drama
Deltagare: 1 SL, 5 spelare
Av
Ladda ned
Beskrivning
I Rigets hovedstad, sidder Kejseren lænket til tronen. Lænken symboliserer Kejserens binding til Riget, og Rigets binding til Kejseren. Den er smedet af de rænker, løfter og forræderier der skulle til for at erobre tronen.

Magtens Lænker foregår i et Game of Thrones inspireret fantasyrige. Scenariet handler om spillet om magten, og om hvordan magtspillet kan tage kontrollen over dem, der spiller det. Det handler om had, kærlighed, ære, troskab og forræderi, og om hovedpersonernes rejse fra ung og naiv brik i spillet om magten, til at være dem der styrer og kontrollerer spillet.

Spillets mekanikker tvinger spillerne til at foretage skæbnesvangre valg, der udvikler karaktererne såvel som relationerne imellem dem. Scenariet spilles dels som fortællespil dels som traditionelt rollespil hvor fokus er på den episke tragedie. Spillerne hjælper hinanden med at at udtænke rænkerne, for sammen at skabe den gode historie.

In the Capital of the Realm, the Emperor sits, chained to the throne. The chain represents the Emperor's commitment to the Realm, and the Realms fealty to the Emperor and It is forged of the intrigues, promises and betrayals required to conquer the Throne.

Chains of Power explores the struggle for the throne and the ways the powerful can be powerless when bound by their responsibilities. Set against a Game of Thrones-inspired fantasy world, the scenario features hatred, love, honor, loyalty, and betrayal as we follow the main character's journey from naive young pawn to seasoned puppetmaster.

The game mechanics force players to make fateful choices, that develop their characters and relationships. Stylistically, Chains of Power is part freeform scenario, part co-narration, and focuses on epic tragedy, rather than on winning the throne. The players help each other imagine schemes and intrigues in service to their mutual stories.

Spelat på
Skicka in rättelser om den här sidan