Spiltræf (1991)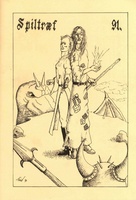 Plats: Sct. Hans Skole, Odense
Datum: 6. - 8. september 1991
Om konventet:
Entre: 60 kr. for alle dage, 30 kr. for enkeltdage

Kongressen bød også på Mafia v. Mads Lunau
Ladda ned
The program is available for download but we haven't typed in all of the presentations of the games yet. We could use your help - if you want to help us by transcribing presentations from the program into the database please contact us.
Arrangörer
Skicka in rättelser om den här sidan