Den gula filmen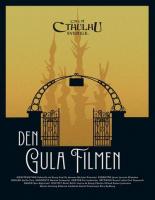 (alias: A film in yellow)
System: Call of Cthulhu Sverige
Deltakere: 1 GM, 3-6 players
Av
Festival européen de l'imaginaire - LuxCon the EuroCon - Europäisches Fantastikfestival (2022), Opderschmelz, Luxemburg
Beskrivelse
The movies of Filmstaden studios in Stockholm is a great export success. The stars from Sweden are conquering Hollywood and a new (hopefully) blockbuster, "A Film in Yellow", is in production. The fact that actors or directors rush out and leave in anger is commonplace, but now an entire production set has disappeared without a trace – taking some key people of the team with it. In this stand-alone adventure to the horror RPG Call of Cthulhu, investigators take on the role of actors, camera men and other movie industry workers in their quest to understand the incomprehensible – and hopefully not go crazy.
1920 slår Filmstaden i Råsunda upp sina portar till vad som kommer att bli navet för den svenska filmindustrin, som snart blir en av de största i världen. 1926 pågår just en storskalig och mycket hemlighetsfull produktion i Drömfabriken, med arbetsnamnet "Den gula filmen". Filmen är hjärtebarnet till huvudrollsinnehaverskan Lily Marten, som också varit med och utvecklat en unik teknik för att återge färg på vita duken. Men på inspelningens sista dag sker något mystiskt och oförklarligt och snart är det upp till er att försöka lista ut vad som faktiskt har hänt…

Den gula filmen är ett äventyr skrivet av de mycket hyllade författarna Gabrielle de Bourg (Ur Varselklotet, Kutulu), Gunilla Jonsson och Michael Petersén (KULT, Mutant) till Call of Cthulhu Sverige. Call of Cthulhu Sverige är en svensk utgåva av Call of Cthulhu som utspelar sig i norden på 1920-talet, utgivet av Eloso förlag. Äventyret har möjlighet för upp till fem spelare och kommer med färdiga rollpersoner, som alla spelar delar av teamet i produktionen.
Spilt på
Send inn rettelser om denne siden