En fandens historie: I krig gør djævelen plads i helvede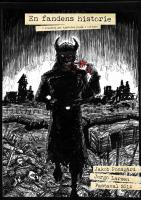 (alias: A Devil's Tale: In Times Of War, The Devil Makes More Room In Hell)
Sjanger: Drama
Deltakere: 1 GM, 5 players
Arrangert av
Lokes Garage
Av
Last ned
Beskrivelse
Gastågerne lettede og de fem soldater kunne igen mærke deres blodfyldte vabler gennem angsten. Håbet havde for længst taget deres uskyld i hånden og deserteret fra frontlinjen. Nu var der bare deres kroppe tilbage i mudderet, skælvende i takt til eksplosionerne. Monotonien havde efterhånden lukket sig om dem, kun afbrudt af den hule lykke som muggent brød og råddent vand kunne levere.

'En Fandens Historie: I Krig gør Djævelen Plads i Helvede' er en kærlighedserklæring til ukuelig trods, frugtesløs stræben, bundløs kærlighed og Djævelen - Kødets Mester, Jordens Konge, Løgnens Fader.

Det er sat i krigens midte, ved frontlinjen: hvor selv de dårligste odds, set over dødens skulder, virker som en god handel.

Djævelens tunge, svovlstinkende ånde, bredte sig om drengesoldatens ansigt med ordene: "Her er en kugle med dit navn på." Cigarstumpens glød fik med en tung hvæsende lyd de sorte skægstubbe til at kaste slagskygger i det arrede fjæs. "Men hvis du vil spille, tager jeg den måske igen"

Dette er et stemningsfyldt scenarie for 5 spillere. Ud over deres egen rolle, må spillerne lade karaktererne træde i gamle venners og fjenders sted for at redde deres eget skind. Det er et scenarie, hvor alt, hvad du gør, har konsekvenser i den endelige afregning, når skæbnetimen oprinder.

Scenariet er skrevet til dem, der elsker den tunge skæbnefortælling, den dystre stemning, den tragiske helt og det sælsomme eventyr - Men, som samtidig vil elske at lade sig presse ud i dårlige beslutninger og fortvivlelse, når tempoet er højt. Vi søger spillere, der glæder sig til at lade deres karakterer lide en blodig død, blive ramt af en krank skæbne eller vinde en bitter sejr - og frem for alt: nyder at se Djævelen tage det sidste stik.
A prince, fair as the moon, had two younger sisters and two younger brothers. When the queen died, the king married another woman, who was evil as the darkest night. The children ran away and at the crossroads they met the Devil. He offered them a way out, but in return the children had to shovel coal in Hell. Each of the first four said "let me work alone, so my other siblings can go free." When the time had come for the eldest prince to speak, he had no one to replace, and the Devil grinned and took his four brethren with him to Hell. "I sentence you to life, prince!" he yelled, while the gates of Hell closed shut with a clap of thunder.

A prince, fair as the moon, was all alone in the world. He lived his life in toil and hardship in the deepest ash pit of the castle. Every day he had only dry bread and stale water and every day he suffered beatings and harsh words. But one day he met four riders, who said to him: "fly with us till judgment day!" He gave them his hand, and one took it. One took his heart, one his bones and one his beautiful eyes, and when the Devil came to claim what was his, he didn't recognize them. "So let's play a game of cards," the Devil grinned. "Your souls are as good as any." And the gates of Hell opened wide.

A Devil's Tale: In Times Of War, The Devil Makes More Room In Hell is a declaration of love for indomitable defiance, fruitless endeavor, boundless love and the Devil - master of all flesh, king of the earth, the father of lies. The tale begins in the second before the onslaught, when a young soldier in a trench is visited by four spirits on the run from the Devil, their lord and master.

It is a mood driven scenario for five players and a game master. In addition to their own role, the players must let their characters take the place of old friends and enemies alike to save their own hides. It is a scenario, where everything you do is taken into account, when the final reckoning is at hand.

The scenario is written for those, who love the heavy tale of destiny, the gloomy ambience, the tragic hero and the eerie folk tale. We seek players, who delight in letting their characters suffer a gory death, an ill fate or a bitter victory and first of all appreciate watching the devil take the last trick.
Spilt på
Send inn rettelser om denne siden