PoRtaL 3: Zagreb (2015)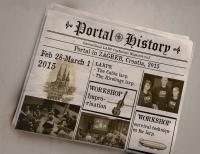 Sted: Zagreb, Kroatia
Dato: 28. februar - 1. mars 2015
Om kongressen:
👨‍👩‍👧‍👦 It started with some rapid larp presentations from different designers.
⚠️ Zofia "Zula" Skowrońska talked about larp pictograms.
🔪 There was a discussion about planned violence – sarcasm as criticism.
🤼 Dominik Dembiński talked about designing structural conflict.
🏔 Ivana Delač and Vesna Kurilić ran The Cabin larp.
🎭 Teddea Senjanović ran an improvisation workshop.
🧙🏿 Ivan Žalac and Miroslav Wranka ran The Hirelings larp.
🏕 Željko Travica presented survival techniques for larp.
📜 Ivan Žalac presented about where the larp plot comes from.
🇪🇺 Miroslav Wranka led a discussion on Knudepunkt in New Europe.
Another PoRtaL, new countries participating, new topics, and new larps.
Vi har ikke hatt tilgang til programmet for denne kongressen, så oversikten over spill er kun basert på eksterne kilder, hukommelse, rykter og så videre. Derfor er den kanskje ikke komplett. Send oss en rettelse.
Arrangører
Send inn rettelser om denne siden