PoRtaL 3: Zagreb (2015)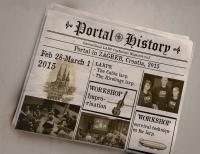 Sted: Zagreb, Kroatien
Dato: 28. februar - 1. marts 2015
Om kongressen:
👨‍👩‍👧‍👦 It started with some rapid larp presentations from different designers.
⚠️ Zofia "Zula" Skowrońska talked about larp pictograms.
🔪 There was a discussion about planned violence – sarcasm as criticism.
🤼 Dominik Dembiński talked about designing structural conflict.
🏔 Ivana Delač and Vesna Kurilić ran The Cabin larp.
🎭 Teddea Senjanović ran an improvisation workshop.
🧙🏿 Ivan Žalac and Miroslav Wranka ran The Hirelings larp.
🏕 Željko Travica presented survival techniques for larp.
📜 Ivan Žalac presented about where the larp plot comes from.
🇪🇺 Miroslav Wranka led a discussion on Knudepunkt in New Europe.
Another PoRtaL, new countries participating, new topics, and new larps.
Vi har ikke haft noget program for denne kongres, så oversigten over spil er blot baseret på eksterne referencer, hukommelse, tidlige rygter, etc., og er derfor måske ikke komplet.
Har du en ændring, eller ligger du inde med et program, så send os en rettelse.
Arrangører
Indsend rettelser for denne side