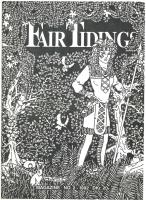 2 - 1992
Colophon
Content
Page 4
The Living Dead


Upon the art of making the dead come alive - how to give that vampire the personality he deserves!

Page 7
Near Death Experiences


When a character gets resurrected, what are you to tell him as a gamemaster?

Page 11
Das also war der Pudels Kern


A few suggestions of how to handle disguises - for players and game masters alike.

Page 13
Royal Landscape Gardening


When kings conceive an idea, the consequences are sort of unimportant...

Page 16
Not another one of those!


Now me, I want to be some- thing as plain as a fighter.

Page 17
No more Mr. Nice Guy


An article so bad, that we won't even read it ourselves...

Page 20
The nightshade family


A species of plants that are to be blamed for the deaths of thousands, historically and present time.
Send corrections for this page