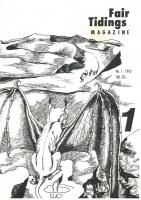 1 - 1992
Colophon
Content
Page 4
The Women's Street


Upon those certain parts of Byzantium that aren't in the tourist's guide...

Page 9
Fighting with Style


From d Artagnan to Selarian Mann - a stereotype from history (i f you haven't heard of Selarian, don't feel ignorant; just praise the wisdom of your gamemaster).

Page 13
Days of Celebration


Upon those special days that make a campaign setting different than the meter wares...

Page 16
To Be or Not To Be


How come some roleplayer's clubs have success while others are fated to die slowly?

Page 17
Desert Born


Looking back on one's life, one can only hope to have lived well.

Page 23
Utopia Subway Wall


Letters - nobody knew there was a new magazine around, so we got no letters!
Send corrections for this page