The Family Andersson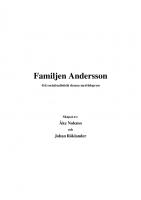 (AKA: Familjen Andersson)
RPG system: LARP
Participants: 8-10 players
By
Prolog (2009), Culturen, Västerås, Sweden
Prolog (2013), Västerås, Sweden
Download
Description
A contemporary drama with time pressure. The Family Andersson is a short game for 8-10 participants. The game is about a group of siblings who have gathered in the home of their recently deceased parents to discuss the inheritance. The focus is on exploring relationships between family members and testing how a game functions when more than one players act the same part.
Ett familjedrama där varje roll besätts av två spelare. Gastkramande nutidsdrama. Ett formexpriment för att utveckla rolldialogen samt fördjupa rollens kraft.
Familjen Andersson är första delen i "Familjensviten" som är skriven av Åke Nolemo, Johan Röklander och Jörgen Säteraas. Familjen Andersson är ett kort spel för 8-10 deltagare. Tyngdpunkten ligger i utforskandet av familjerelationer och testar hur spel fungerar där flera personer besitter en och samma roll. Spelet har tidigare satts upp på Prolog.

❤ Deltagaren får lära sig vissa lajvtekniker och lära sig att dela på roller och visioner med andra.
Played at
Send corrections for this page