Krigslive XVI - For Kejserriget skal de vantro dø!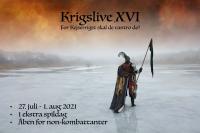 Description
The year is 2521 and the Empire is divided into a bitter dispute over whether Ulric or Sigmar is the true god of war and protector. But the conflict goes deeper, for many of the soldiers this is the battle to restore the balance between the Northern and the Southern states of the Empire.

Join Krigslive XVI and fight for your State, your God and the Empire!

Temporary timetable, subject to change:
Thueday: Possible to check-in and set up camp from 12pm.
Wednesday: Briefing and game start at 12 noon/midday.
Saturday: Game stop, debriefing and afterparty.
Sunday: Packing, cleaning up and check out. Se mindre
Året er 2521 og Kejserriget er splittet i en bitter strid om hvorvidt Ulric eller Sigmar er den sande krigsgud og beskytter. Men striden stikker dybere, for mangt en menig soldat er dette kampen for at genoprette vægtforholdet mellem Kejserrigets nordlige og sydlige stater.

Tag med til Krigslive XVI og kæmp for din stat, din gud og for Kejserriget!

Midlertidig tidsoversigt, med mulighed for ændringer:
Tirsdag: Mulighed for check-in og lejeropsætning fra kl. 12:00
Onsdag: Briefing og spilstart kl. 12:00 middag.
Lørdag: Spilstop, debriefing og efterfest
Søndag: Nedpakning, oprydning og check-out.
Runs
20. - 24. May 2020, Hedeland Naturpark, Denmark [cancelled]
27. July - 1. August 2021, Hedeland Naturpark, Denmark: Ny dato

Links
Send corrections for this page