Når Et Barn Elsker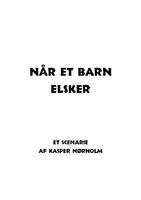 RPG system: System 6
Genre: Projekt R'lyeh
Participants: 1 GM, 6 players
By
Download
Description
Kagerup, d. 01/01/1996

Kære venner,

Det er snart længe siden, at vi har været samlet alle sammen. Små fire år vil jeg tro; så det er sgu snart på tide, at vi ses igen, synes jeg. Derfor denne lille invitation til at tilbringe vinterferien sammen med undertegnede. Mine forældre rejser til Norge i ferien. Af samme årsag står huset tomt, hvorfor jeg har lagt billet ind på det. Til gengæld for at passe hunden altså – so you can come, if you want to be with me. Og hvem ved, måske bliver der også tid til lidt rollespil? Jeg har i hvert fald noget oppe i ærmet, hvis det skulle have interesse. Stuen er under alle omstændigheder ligeså stemningsfuld, som den altid har været, og vores egen lille "poltergeist" venter utålmodigt på at krydre vores natlige affærer. Jeg skulle i øvrigt hilse. Nåh, men nu gider jeg sgu ikke rigtig spilde mere papir på jer, så jeg smutter.

Håber vi ses.

Med venlig hilsen,

Carsten Nørskov

S.U. senest d. 01/02/1996. Adressen og telefonnummeret er stadig det samme.
Played at
Awards
Winner, Bedste Bipersoner
Nominated, Bedste Redigering
Referenced in the following articles
Trivia
Links
Send corrections for this page