Hangover Santa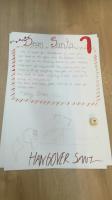 By
Description
Christmas is coming and all the kids are waiting for their presents, the time is running but Santa doesn't appear! Apparently, he has had some good parties and now he is too hungover to go to the workshop.You, as the elves, are now in charge of making the toys, but you don't even know what you are trying to build! You will collaborate with each other so the kids receive something in Christmas, but remember not to eat too much or drink while working!

Each of the designs of the toys corresponds with a tangram pattern where the square part is an ArUco marker (where the pattern is saved), and, while you have to maintain a total of toys built (the main objective as a group), you will have your own board to make your own toys so if you are the MVP of the factory Santa might choose you to go with him on his next ride! In order to do so, you have to try to make as many of your designs as possible. Have in mind, that if the main objective is not achieved, Santa will fire all of you!

Together with the four main personalities: the drunkard, the crier, the juggler and the dictator, you will receive Santas help when you call him. He will give you some feedback on your design and how much it differs from the toy that the kid asked.

Good luck and don't let Santa sack you!
Played at
Links
Send corrections for this page