The Plague and the Dragon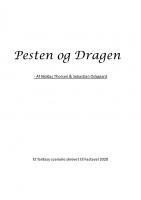 (AKA: Pesten og dragen)
Genre: Action, Fantasy
Participants: 1 GM, 4-5 players
By
Download
Description
An evocative D&D-inspired scenario. A diverse group of adventurers must go on a quest to gather the ingredients needed to cure the devastating plague. But is the cure more important than the people who cross their path?
An atmospheric fantasy scenario about a dangerous race against time to save the city from the ravaging plague.
Regnens monotone trommen tager til mod Monroes hætte. Han retter på sin gamle rustne lanterne, der tænder med et sæt. Dens giftgrønne lys kaster sig langs hans mørke kappe, og oplyser kraniet på hans metalbelagte uhellige bog. Foran ham, på hug ved klippeafsatsen, sidder den garvede kriger Wolfric. Hans vejrbidte ansigt spejder ud over trætoppene, i den tæt bevoksede skov under dem. Med et rejser han sig, og kigger sig over skulderen. "Pesten er ikke nået denne del af skoven endnu… Vi kan stadig nå det."

Pesten og Dragen er et højintenst, fantasy scenarie, spækket til randen med farverige og varierede scener. Scenernes formål er, at teste spillerne og deres karakterers moralske kompasser. Hvem tager titlen som helt – og hvem stikker af, når enden bliver bitter.
Scenariet bruger et enkelt kortsystem, der understøtter action, dramaet mellem spillerne og sætter karakterernes ressourcer under pres.
Som spiller skal du kunne lide samarbejde, fantasy, og være klar til at have et sværd i den ene hånd, og skæbnesvangre valg i den anden… Og så er du ikke bange for drager.
Et stemningsfyldt fantasy scenarie om en farefyldt færd i kapløb mod tiden for at redde byen fra den hærgende pest.
Played at
Send corrections for this page