Mens vi venter på bussen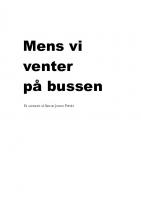 (AKA: While We Wait for the Bus)
RPG system: LARP
Participants: 3 GMs, 15-60 players
By
Download
Description
"Dear parents, on friday our young people will return from Berlin, full of new experiences. You are invited to welcome them home at the gymnasium with flags and hugs."
-Message for parents

It was just supposed to be a run of the mill study trip, but the accident changed the whole week completely. I will never forget that journey, or those that didn't make it home.
-A student after the accident

For this larp everyone plays in the same run. Either as student on the trip or as the families waiting for them. This is a tragedy about waiting, about facing death. But it's also about strength of our closest relations and about valuing the short time we have together.

The students will experience fragments of the trip, seen through the lens of what is waiting ahead. The players will together create solidarity in the class before the accident strikes.

The families play the waiting time during the day when the students are supposed to arrive home. Apprehension turns into fear as the bus is more and more delayed. In the end comes resolution either as relief or the worst that can happen.

Both play experiences is about immersion. The plot can't be changed, instead the players will be swept along, and focus are on the emotions they experience during it.

"Kære forældre i 1Y, på fredag kommer vores unge mennesker hjem fra Berlin, mange oplevelser rigere. I er velkommen til at modtage dem på skolen med flag og knus."
-Besked til forældrene

"Det skulle jo bare være en helt almindelig studietur. Men ulykken gjorde hele den uge til noget helt andet. Jeg vil aldrig glemme den rejse, eller dem, som ikke kom hjem."
-Elev fra 1Y efter ulykken

I dette liverollespil spiller alle med i samme afvikling, enten som elev på studietur, eller familien, der venter på dem. Det er en tragedie om at vente, om at se døden i øjnene. Men det er også en fortælling om værdien af de nære relationer og om at værdsætte den korte tid, vi har sammen.

Eleverne vil opleve brudstykker af studieturen, der hele tiden er sat i konteksten af, hvad der venter forude. Man skaber et stærkt sammenhold i klassen, inden ulykken rammer.

Familiernes spil er på dagen, hvor bussen skal ankomme. Bussen bliver mere og mere forsinket, og ængstelse bliver til frygt, indtil forløsningen kommer, enten som lettelse, eller som det værste, der kunne ske.

Begge spiloplevelser handler om indlevelse. Man kan ikke påvirke plottet, men skal blot lade sig rive med af tragedien og mærke følelserne dybt i ens krop.

Played at
Send corrections for this page