God Therapy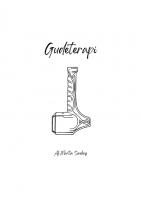 (AKA: Gudeterapi)
Genre: Komedie, Novellescenarie
Participants: 1 GM, 5 players
By
Download
Description
"Do you understand now?" Freja exclaimed after a longer explanation of her problems. "Yes, you're afraid that everyone sees you as a dumb bimbo." said the therapist. Freja looked understanding for a moment, before her posture changed drastically. "No honey, I'm mad that Zeusie-Pouchie over here hasn't offered me his lightning bolt yet". Zeus was about to protest but suddenly he transformed, and took the shape of an Olympian Don Juan who commented slyly on Freja's outburst. That was the fifth time that day.

The ancient gods suffer from split personalities, that divides them between their personalities from the ancient world and their new pop culture identities. A therapist tries to help the gods but it is hard when the gods are more busy arguing about their past than they are with solving their problems. Can the gods unite the two aspects of themselves or are they bound to suffer a fate worse than death – a CGI filled adaptation with Hollywood's A-list in culturally appropriated roles.
"Forstår du nu?" udbrød Freja efter en længere forklaring af hendes problem. "Ja, du er bange for at alle ser dig som en dum dulle." sagde terapeuten. Freja så et øjeblik forstående ud før at hendes kropsholdning skiftede drastisk. "Nej skat, jeg er sur over at Zeusse-basse herovre ikke har tilbudt mig sin tordenkile endnu?" Zeus skulle til at protestere, men pludselig forvandlede han sig, og tog nu skikkelse af en slags Olympens Don Juan, der kommenterede kækt på Frejas udbrud. Det var femte gang den dag.

Oldtidens guder lider af personlighedsspaltning, der splitter dem imellem den personlighed de havde i oldtiden og deres nye popkulturelle identitet. En terapeut prøver at hjælpe guderne, men det er svært når guderne har mere travlt med at skændes om gamle dage end de har med at løse deres problemer. Kan guderne forene de to aspekter af dem selv, eller må de lide en skæbne værre end døden – en overlæsset CGI filmatisering med Hollywoods A-liste i kulturelt approprierede hovedroller.
Played at
Send corrections for this page