HeroVerse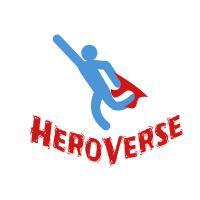 Participants: 2-4 players
By
Description
Earth is under siege and superheroes (the players) have been summoned to defend it. Some heroes have come from long forgotten mythology, others from distant alien worlds and lastly some have travelled through time itself to defend Earth.

In HeroVerse, players take the roles as superheroes that defend Earth in an urban environment. You start by building your own Superhero right down to the name of your hero by simple picking 2 herocards with multisided names, attribute and origins. Based on your choice you also assemble your starting deck. The starting deck can get stronger with new card as you through progress gain access to them. The cards you have are multipurposed and can be utilized in different ways.

HeroVerse is a fairly fast paced coop deckbuilding game in a superhero themed universe where players can use superpowers like lifting cars and jumping from building to building while saving civilians and battling aliens and robots in an urban environment. The game has a board of an urban environment with objects, civilians and enemies the players can interact with. The players win with they have achieved the mission objective for the scenario.
Jorden er under belejring, og superhelte (spillerne) er blevet indkaldt for at forsvare den. Nogle helte er kommet fra længe glemt mytologi, andre fra fjerne fremmede verdener, og til sidst har nogle rejst gennem selve tiden for at forsvare Jorden.

I HeroVerse tager spillerne rollerne som superhelte, der forsvarer Jorden i et bymiljø. Som spiller starter du med at opbygge din egen Superhelt helt ned til din helts navn ved blot at vælge 2 herocards med multisidede navne, evner og oprindelse. Baseret på dit valg samler du så dit startdeck. Startdecket kan blive stærkere med nye kort, som du opnår, som spillet skrider frem. De kort, du har, er multipurposed og kan bruges på forskellige måder.

HeroVerse er et relativt hurtigt coop deckbuilding spil i et superhelt tema univers, hvor spillerne kan bruge superkræfter som at løfte biler og hoppe fra bygning til bygning, mens de redder civile og kæmper mod rumvæsner og robotter. Spillet består bl.a. af et spilbræt som gengiver et bymiljø med genstande, civile og fjender, som spillerne kan interagere med. Spillerne vinder med de har nået missionens mål for scenariet.
Played at
Send corrections for this page