Oakwood Heights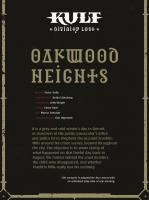 RPG system: Kult: Divinity Lost
Participants: 1 GM, 4 players
By
Download
Description
It is a grey and cold winter's day in Detroit, as members of the public prosecutor's office and police force shepherd the accused Franklin Mills around his crime scenes, located throughout the city. The objective is to attain clarity of what happened on that fateful day back in August, the motive behind the cruel murders, the child who disappeared, and whether Franklin Mills really lost his memory.
Detroit, Michigan November 2015. En stad i förfall. Ödehus, nedgångna kvarter, rostiga industrier allt dränkt i snömodd, isande regn och kalla
vindar från de nordliga sjöarna. En grupp personer från polisen och åklagarmyndigheten eskorterar den misstänkte mördaren Franklin Mills till
brottsplatser i Detroits utkanter för att där rekonstruera mordscener från ett antal groteska mord. Alla bevis pekar mot Franklin Mills men dådens
makabra tillvägagångssätt och en försvunnen pojke som ett av offren har gjort att det finns de som ställer sig frågan om han agerat ensam.

Oakwood heights är ett tätt och laddat scenario till Kult: Divinty Lost. Det är anpassat för 4 spelare. Inga förkunskapskrav krävs. Scenariot har
våldsamma inslag och är ej lämpligt för känsliga spelare. Det tar omkring 4-5 timmar.
Played at
Send corrections for this page