Party Survival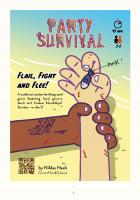 By
Description
You are marooned on a deserted island. Hunger, thirst and disease threathen everywhere. How will you and your fellow islanders survive in the hostile nature? In Party Survival the goal is to found out what the others are planning and survive long enough to get off the island. Players are hunting vital resources on the island. The more you acquire, the better your chance of escaping unscathed. Party Survival is a short and intense card game that requires some strategy and quite a bit of luck. Every round, players investigate the island. In a sign language battle you try to guess the moves of the opponents and claim the best resources while avoiding the dangers of the jungle. Will you go for the best cards, risking to lose all, or will you try to play it safe?

This game is best enjoyed with tongue in cheek and snacks on the table. Playing time is about 45 mins, depending of the number of players.

Key words. Mechanichs: Set Collection, Card Drafting, Competitive Theme: Party, Simultaneous Action Selection, Bluffing, Take That.

About the designer: The blooming board game industry and some of the fantastic titles that have shaped it – inspired Niklas to have a go at designing a game himself. He considers himself a dedicated hobby designer since he has yet to be published by others than himself. In his designs, he pursues lighter and social games like this years entry "Party Survival". Niklas work as Art Director with experience design. Apart from working on own titles and sometimes making art for other designers – he also run the irregular updated website GreenHookGames.com where the art and artist behind board games are revealed through interviews and articles.
Når man er strandet på en øde ø, gælder det om at arbejde sammen og dele ressourcerne – eller gør det?? Kan du gennemskue de andres planer og overleve længe nok til at slippe væk?

I er strandet på en øde ø. Sult, tørst og farlige sygdomme lurer overalt. Hvordan skal du og dine "ø-venner" nu overleve i den barske natur? I Party Survival gælder det om at gennemskue de andres planer og overleve længe nok til at slippe væk. Spillerne skal jagte de livsnødvendige ressourcer på øen. Jo mere du får fat i, desto bedre er dine chancer for at komme helskindet fra øen.

Party Survival er et intenst lille kortspil, der kræver en smule strategi og en hel del held. Hver runde skal spillerne udforske øen. I en kamp med håndtegn skal man gætte på modstanderens træk og redde sig de bedste ressourcer, mens man undgår farerne gemt i junglen. Går du efter de bedste kort med risiko for at miste alt eller holder du dig til det sikre?

Spilles nydes bedst med et glimt i øjet og snacks på bordet. Det tager ca. 45 min. afhængig af antal spillere.

Stikord:
Mekanik: Set Collection, Card Drafting, Competitive
Tema: Party, Simultaneous Action Selection, Bluffing, Take That
Played at
Links
Send corrections for this page