Fog of Love: Midlife Crisis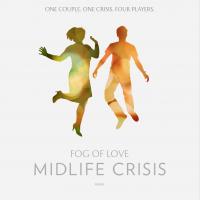 Participants: 4 players
By
Description
Midlife Crisis is the sequel to Fog of Love, covering events years after a colourful couple has met and fallen in love. Four players steer the two conflicted characters through ? or into ? a dramatic midlife crisis. Each character is controlled by two players, inner voices, struggling to reconcile differing goals and dreams. Initially you dont know what the other inner voices want.

The game starts with the players defining the two central characters. Then you play a story consisting of every day and dramatic scenes.

Each scene has choices. One player per character secretly decides what is at stake for each choice while the two other players decide what to do. Some choices will likely be imbued with peril and drama. If the right choices are made, the relationship will flourish. Else you might see your dreams shatter one by one.
Hopefully you will find a way to make the relationship work and fulfil your dreams. Each player has multiple ultimate goals ? destinies ? to aim for and will slowly whittle them down to a final destiny that will decide how their part of the story ends. The players actions are strongly intertwined and their destinies interdependent. Like a real relationship nobody can do it on their own.

Fog of Love: Midlife Crisis is very thematic and encourages role-playing. Since two players define each character, you will have rich opportunity to go deep and dramatize the inner life of the conflicted characters.

Keywords: Role-playing, simultaneous action selection, deduction.

About the designer:
Jacob Jaskov has for many years worked with behaviour design, knowledge processes, innovation and strategy in his boutique consulting company The Behaviour Bureau.

He is strongly interested in making games that reflect real life and create strong narrative experiences. His games are based on deep research into relevant psychological mechanisms, real life micro interactions and narrative structures.

His first board game Fog of Love was made for Fastaval 2015 and is now a commercial success. It allows him now to dedicate most of his time to game development and publishing.
Midlife Crisis er fortsættelsen af Fog of Love og omhandler begivenheder der foregår år efter et farverigt par har mødt hinanden og forelsket sig. Fire spillere styrer de to modstridende figurer gennem, eller ind i, en dramatisk midtvejskrise. Hver figur kontrolleres af to spillere, indre stemmer, der kæmper for at forlige forskellige mål og drømme. I begyndelsen ved du ikke hvad de indre stemmer ønsker. Spillet begynder med at spillerne definerer de to centrale figurer. Derefter gennemspiller I en historie der består af hverdags- og dramatiske scener. Hver scene indebærer valg.

En spiller pr. figur bestemmer skjult hvad der på spil ved hvert valg, mens de to andre spillere beslutter hvad de gør. Nogle valg vil være præget af fare og drama. Hvis de rigtige valg træffes, vil forholdet blomstre. Ellers kan det være du ser dine drømme knuses en efter en. Forhåbentlig vil du finde ud af at få forholdet til at fungere og opfylde dine drømme. Hver spiller har forskellige målsætninger, skæbner, de kan gå efter, og de vil langsomt skære dem ned til én endegyldig skæbne, som vil bestemme hvordan deres del af historien ender. Spillernes handlinger slynger sig om hinanden og deres skæbner afhænger af hinanden. Som i et rigtigt forhold kan ingen gøre det alene.

Fog of Love – Midlife Crisis er meget tematisk og opfordrer til rollespil. Da der er to spillere til at definere hver figur, er der rig lejlighed til at gå i dybden og dramatisere de modstridende figurers indre liv.

Rollespil, Simultaneous Action Selection, Deduction.
Played at
Send corrections for this page