Horrordeck - Horror on the Holodeck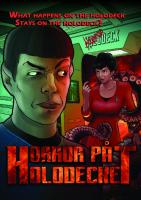 (AKA: Horrordeck - Horror på holodecket)
Genre: Gyser, Novellescenarie, Sci-Fi
Participants: 2 GMs, 5-8 players
By
Download
Description
"Why did I agree to this? They should know, that I cannot get scared… I sense movements in the corner of my eye. Is one of them trying to sneak up on me… again?! I feel the irritation pique in the back of my mind, but I quickly suppress the sensation. I hear lieute nant Bardico scream. S omething is terribly wrong…"

On board the spaceship USS Edgar, a group of officers meet regularly for a drink and a round of cards. Many different subjects are discussed, but one day the conversation turns on fear. When lieutenant Patal mentions that Vulcans never gets scared, he soon finds himself and his friends in the ship's holographic room, where lieutenant Yurick asks the computer to create a scenario, scary enough, to frighten a Vulcan.

All have tried to be afraid at some point – in a critical situation, it can make you feel more human… but can a Vulcan, a race who suppresses their emotions, get scared at all?
"Hvorfor gik jeg overhovedet med til det her? De burde da vide at jeg aldrig vil blive bange... Jeg fornemmer bevægelser ud af øjenkrogen. Er det nu en af de andre, som forsøger på at snige sig ind på mig... igen?! Jeg mærker irritationen pirre i baggrunden af mit sind, men undertrykker hurtigt fornemmelsen. Jeg hører løjtnant Bardicos skrig. Der er noget helt galt..."

Ombord rumskibet USS Edgar, mødes en gruppe officerer regelmæssigt til en drink og et spil kort. Emnerne flyver i øst og vest, men en dag falder snakken på frygt. Da løjtnant Patal nævner at vulcans aldrig bliver bange, går der ikke længe inden han og hans venner befinder sig i skibets holografiske rum, imens løjtnant Yurick beder computeren om at skabe et scenarie, som er uhyggeligt nok, til at skræmme en vulcan.

Alle har prøvet at være bange på et tidspunkt – i kritiske situationer kan det nærmest føles som noget af det mest menneskelige... men kan en vulcan, en race som undertrykker sine følelser, overhovedet blive bange?
Played at
Trivia
Send corrections for this page