Starship Troopers: A New Threat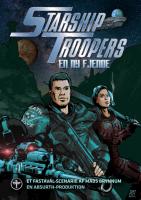 (AKA: Starship Troopers: En ny fjende, Starship Troopers: En ny trussel)
Genre: Action, Sci-Fi
Participants: 1 GM, 5 players
By
Download
Description
The Arachnids attacked us. It costed us millions of lives, thousands of ships, and years of war, but in the end we were victorious. Because we never gave up. Because we never will.

Now a new enemy threatens humanity. And following their cowardly assault on our moon in the very heartland of The Republic, only one course of action remains: total war. They are smarter, stronger and more technologically advanced than the bugs, but we have the will to win. We shall fight them on the ground, on the seas and oceans, and in space and we cannot lose. We dare not lose. Because in the end it's them or us.

Sign up now – service guarantees citizenship!

Would you like to know more?

Starship Troopers: A New Threat is about the interstellar war between humanity and the lizard like "snakes". The players are a group of elite soldiers from the mobile infantry, and a large part of the game are the actual battles during the counterattack. But it's also a game about what happens between the death and horror of battles, about the republic, about the necessity of war, and about what they are actually fighting to defend.

The game is primarily based on the movie Starship Troopers by Paul Verhoeven. It is not comedy.
Arakniderne angreb os. Det kostede millioner af liv, tusinder af skibe og år med krig, men vi sejrede. Fordi vi ikke gav op. Fordi vi aldrig giver op.

Nu truer en ny fjende menneskeheden. Og efter deres kujonagtige angreb på vores måne i selve hjertet af republikken er der kun et svar: den totale krig. De er klogere, stærkere og mere teknologisk avancerede end vores tidligere fjende, men vi har viljen til sejr. Vi vil bekæmpe dem til lands, til vands og i rummet og vi kan ikke tabe. Vi må ikke tabe. For i sidste ende er det os eller dem.

Meld dig nu – aktiv tjeneste garanterer statsborgerskab!

Vil du vide mere?

Starship Troopers: en ny trussel handler om den interstellare krig mellem mennesker og de øgleagtige "slanger". Spillerne er en gruppe elitesoldater fra det mobile infanteri, og en stor del af scenariet handler konkrete kamphandlinger under kontraoffensiven. Men det handler også om alt det der sker mellem slagenes død og rædsel, om republikken, om nødvendigheden af krig og om hvad de egentlig kæmper for at bevare.

Scenariet trækker på især filmen Starship Troopers af Paul Verhoeven. Det er ikke en komedie.
Played at
Send corrections for this page