Dino+Sauria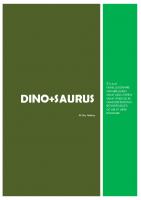 (AKA: Dino+Saurus)
Genre: Komedie, Novellescenarie
Participants: 1 GM, 3 players
By
Download
Description
Dino+Sauria is a scenario about fighting for true love – and why it isn't that simple.
It isn't easy being a small dinosaur in a big world – less so when you're far away from the one you love and your inner tyrannosaurus keeps pushing you, telling you you're not doing it good enough.
I en lille bitte by omgivet af bregner bor to dinosaurer. De elsker hinanden meget, meget højt; der er ikke det, de ikke ville gøre for hinanden. Og lige præcis derfor, rejser Dino alene til Dinotopia for at jage lykken, imens Saurus venter derhjemme.
Men det er ikke let at være en lille dinosaurus i en stor verden – slet ikke når man er langt væk fra den, man elsker, og ens indre tyrannosaurus hele tiden presser på og fortæller en, hvorfor man ikke gør det godt nok.

Dino+Saurus er et Pixar-filmsinspireret novellescenarie om kærlighed, om at jage lykken og om at finde ud af, hvad der egentlig er vigtigt. Det er en fortælling med plads til latter, skæve vinkler og brontosaurus-trapper, tragedie, bitre tårer og en lille smule ondt i hjertet.
Played at
Trivia
Konkurrencescenarie (scenariet var med i konkurrencen om at vinde en rejse til USA)
Send corrections for this page