Horny Rock'n'Roll Dirtbusters in the Wet Cave of Chaos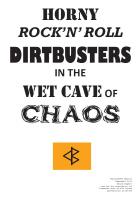 Genre: Action, Komedie, Novellescenarie
Participants: No GMs, 5 players
By
Download
Description
Dirtbusters: Et internationalt broderskab af krigere i orange powersuits, der kæmper en evigt fanatisk kamp mod kaos. Altid i frontlinjen, altid klar til at lyde Commanderens bud. Altid med Døden som følgesvend.

The Wet Cave of Chaos: En mørk, slibrig grotte, hvor overraskelser lurer i snævre tunneller. Et arnested for Kaos, der retmæssigt venter på at blive sprængt åben af Dirtbusters.

Spillet: Et spillederløst fortællespil, hvor spillerne udlever Dirtbusternes eventyr og dødskamp i kaoshulen, hjulpet af dungeonbrættet, pornokort og Dødens Terning.

From a battle they come! To a battle they ride! Blazing up to the sky!
Played at
Trivia
Send corrections for this page