Sunkissed Affairs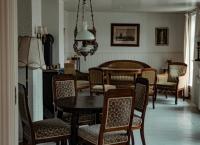 RPG system: LARP
Participants: 7 GMs, 41 players
By
2024, Badehotellet Klitgaarden, Denmark
| | |
| --- | --- |
| | Emil Damgaard Sørensen (Characters) |
| | Bjørn-Morten Vang Gundersen (Main Organizer, Lead Creative, In charge of design document, Story and Naratives, Characters, game design, Photographer) |
| | Mads Havshøj (Main Organizer, Lead Director, In charge og pragmatics, Logistik, Crew, Characters and game design) |
Description
Sunkissed Affairs

A LARP designed and created by
Mads Havshøj and Bjørn-Morten Gundersen


The story is set in the late-1920s Denmark, at a sea side resort, where people from all classes gather.

In these turbulent times, time seems to have slowed down at the sea side resort, and people come from near and far to get a break. They use this summer mainly to get their affairs in order, but they also dare to dream, to hope and some of them dare to gamble with fate.

They try to get some peace of mind, but tensions will rise, lovers and ghosts of the past will haunt them, friendships be tested, family-secrets be revealed, and for the couples perhaps love might find a way or it shall wither forever.


"Sunkissed Affairs" will be an immersive LARP revolving around the stories of ordinary lives, their ambitions and dreams, their disappointments and downfall.

Summer will leave people sun-kissed, and it will bring success or failures, love or hate, unity or loneliness.



This is Sunkissed Affairs, and we wish you were here!


Keywords:
Personal drama, nordic larp, 360-experience, late 1920s Denmark.

Themes:
Commitment, conviction, obligations, disappointment, broken promises, harassment, politics, sexuality, hope, joy, love, despair, summer fling, true love.
Runs 🗺️
| | | |
| --- | --- | --- |
| 5. - 8. September 2024 | 🗺️ | Badehotellet Klitgaarden, Denmark |
Links
Send corrections for this page